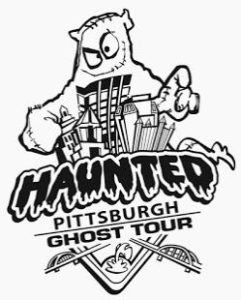 Join us on walking tour through Downtown Pittsburgh, one of America's most haunted neighborhoods. Pittsburgh has a North Side and a South Side, but on this tour, we take you to its dark side.
Haunted Pittsburgh's spell-binding, jam-packed walking jaunt into the city's ghostly, grisly, ghastly past takes you through the heart of it all, Downtown Pittsburgh, the "Golden Triangle." Few towns can match our vibrant heritage. Fewer still can lay claim to a past as spectacularly gruesome. Our Ghost Guide will lead you face-to-face with a number of the actual sites of Pittsburgh's most haunted happenings, including the site where steel magnate Henry Clay Frick's life was spared by a ghost in what might just be the single most important ghost story ever told. You will learn about Pittsburgh history. This is not a "ghost hunt." But if you like real ghost stories with a Pittsburgh twist, Haunted Pittsburgh has what you're looking for.
The tour lasts approximately an hour and twenty minutes and wear your walking shoes.
Deadline to sign up is June 2 and the cost is $17.00 per person. Please click here to sign up.