Virtual Music Bingo | April 22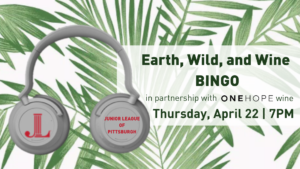 Celebrate Earth Day as a family as you sing along with the Junior League of Pittsburgh's virtual music bingo event. Get ready to test your music knowledge with songs like What a Wonderful World by Louis Armstrong and Waiting on the World to Change by John Mayer. If you don't know the song, don't worry – we give the answers. 
TICKETS
Ticket sales have closed. Stay tuned for our next event!