Galentine's Day Bingo, Brunch, and Bubbles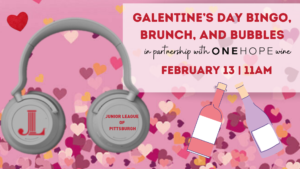 Cook up your favorite brunch meal and join the Junior League of Pittsburgh for a virtual music bingo event featuring a mix of songs for all ages. Get ready to test your music knowledge with our all-female artist playlist that showcases songs from popular movies, Broadway musicals, and Grammy winners. If you don't know the song, don't worry – we'll give you the answer. Toast your friends, daughter, mother, other loved ones, or simply yourself during the event with a glass of wine from our partners at One Hope wines.
TICKETS
Ticket sales closed at 11:59 PM on Wednesday, February 10.
Bingo cards and Zoom information will be emailed to ticket purchasers on Friday, February 12.
PRIZES
1st Round = $40
2nd Round = $50
3rd Round = $60
4th Round = $80
ONE HOPE WINE PARTNERSHIP
We're excited to partner with One Hope wine for this event! A portion of every bottle of wine purchased will support the Junior League of Pittsburgh.
Wine can be purchased via this link.
*If you are purchasing wine for the Galentine's Day Bingo Brunch, please order by February 8 to ensure the wine arrives in time for the event.
*All wine purchased requires a signature upon delivery.
*Should you purchase 4 or more bottles before February 1st, be sure to opt-in for the Preferred Customer Program to receive a discount and reduced shipping.