10th annual Touch-a-Truck May 20th, 2017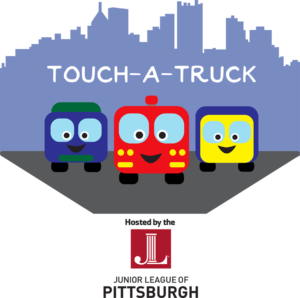 Thank you to our sponsors and supports for helping to make our 10th Annual Touch-A-Truck event the success that it was!
TirePros of Pittsburgh
PALCS
Fun Fore All
Merrill Lynch
Mr. John
Doodlebugs
Edward Jones
Roos Tees
Please check back here for more details about our next event tentatively scheduled for Fall 2018!
At the Junior League of Pittsburgh's annual Touch-a-Truck event, children of all ages have the opportunity to explore many exciting vehicles.  This is a unique opportunity for kids to get behind the wheel, honk horns, and meet the men and women who drive each truck.
In past years, the vehicles participating in the Touch-a-Truck event have included fire trucks, ambulances, police cars, backhoe loaders and excavators, and many more.
In addition to a variety of vehicles, the event features other fun activities and crafts for the entire family.  Food and beverages will be available for purchase at several food trucks on the property.
All proceeds from the 10th Annual Touch-a-Truck event will benefit the Junior League of Pittsburgh, an organization of women committed to promoting voluntarism, developing the potential of women, and improving communities through the effective action and leadership of trained volunteers.  Through volunteerism and its fundraising efforts, the Junior League of Pittsburgh is working towards securing food access for households living below the poverty line in the East End of Pittsburgh.
Save